Bona vs Swiffer – Which is the Best Mop Alternative? While a good mopping is always essential, sometimes the versatility of a Swiffer or bona floor mop is much more efficient. However, there are many different options in both product lines, so it begs the question of which one is the best for cleaning?
Both the Bona floor mops and the Swiffer series are great vacuum and mop alternatives. All you have to do is grab either product and you can clean up dry spills and wet spills in seconds. I like to use both of these products, but there are some subtle differences.
There are a few pros and cons to each. Here's the lowdown on both products to help you understand the Bona vs Swiffer comparison.
Related – Can Bona Power Plus be Used on Hardwood Floors?
What is the Bona Floor Mop?
What is Bona floor mop you ask? Bona floor mops are unique all-in-one cleaning tools that are great for all types of floor surfaces including hardwood, tile, laminate, and more. Each floor mop comes with a cleaning solution tank, that can be dispersed with the click of a button. This gives bona users the ability to effectively clean any spill with one simple product. The sturdy handle and grip along with a trigger that releases a fine mist make it quick and easy to clean your hardwood floors.
One thing to note about the two products is that the Bona hardwood floor spray mops have a larger head than Swiffer models. The larger head distributes cleaning solution more evenly and is capable of cleaning different floors. I have also found that the cleaning pads are more affordable that a Swiffer.
Benefits of a Bona Floor Mop
A Bona floor mop is a great choice for cleaning multiple surfaces including hardwood, tile, linoleum, and other types of floors. Adding a Bona Floor Mop to your cleaning supplies provides:
Quick and easy cleaning
Safe for wood floors
Dries fast, no dulling residue
28.75 oz. ready-to-use formula
Durable, lightweight design
What is a Swiffer?
Swiffer floor mops are dry floor cleaning tools made with a plastic handle and a microfiber scrubbing pad. The head is secured with an easy-to-use grip and built-in mop handle that makes cleaning floors a breeze. The cleaning paid is super effective on all types of floors including laminate, hardwood, and tile. The cleaning pad is also easily removed afterwards, meaning no mess for you to deal with.
Unlike the Bona, the Original Swiffer does not use a spray cleaning solution. Instead, the Swiffer Sweeper is a 2-in-1 with a patented cleaning pad.
A Swiffer wet mop is a great choice for cleaning different types of floors. I have found that using a microfiber pad and a comfortable handle lets you clean your home quickly and easily.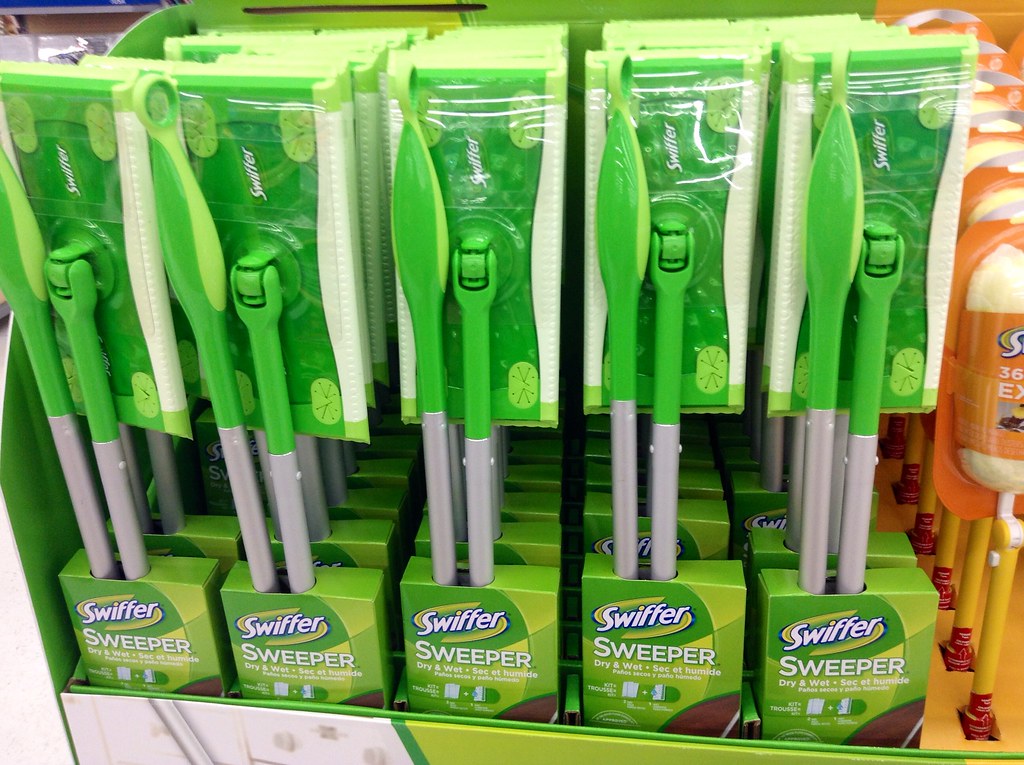 What is the Swiffer Wet Jet?
The Swiffer Wet Jet is an alternative to the 2-in-1 model. The Swiffer WetJet features a unique and powerful cleaning solution that is made for hardwood floors. The handle is a made of metal, and overall the product feels a lot more well-built.
With the Swiffer WetJet you will still need to replace the mopping pads after heavy use. It features the same quick-release feature.
I personally prefer the Swiffer Wet Jet as I find it more effective for my hardwood floor. Your mileage may vary.
The Difference Between a Bona Floor Mop and a Swiffer
So, what are the differences between Bona vs Swiffer? A Bona floor mop is designed to be used on hardwood floors. They are very thick and absorb more liquid in order to spread the cleansing solution more evenly on your floor. The grip releases a fine mist of cleaning solution from the head and spreads the solution more evenly across your floors.
Swiffer products are much more versatile, depending on the model that is chosen. For instance, Swiffer hardwood floor mops have a flat scrubbing head that can be used on hardwood, but it is also great for cleaning tile, laminate, and other types of floors.
Bona vs Swiffer FAQ
Is bona or Swiffer Better for Hardwood Floors?
Having used all three products, I believe the Swiffer WetJet is the best for hardwood floors. If I had to pick one though, I would choose the Bona Floor Mop. It is almost as effective on hardwood floors and it is more versatile. Plus, you can change the cleaning solution easily.
Are Bona Floor Mops Safe for Hardwood Floors?
Bona microfiber pads are made from superior material that will not scratch or damage your floor even if they leave behind a few streaks. They will wash out easily in the sink after clean up without much effort.
Are Swiffer Floor Mops Safe for Hardwood Floors?
Yes, you can use either the Swiffer JetWet or the Swiffer Two-in-one on hardwood floors. Be sure to apply gentle pressure.
How Much Does a Swiffer Cost?
As of the time of writing this article, the price varies between 15 dollars and 25 dollars. What a great investment!
What is the Best Swiffer Mop?
The Swiffer WetJet is the best Swiffer Mop. The cleaning solution is very powerful and it just feels like a better device.
Bona vs Swiffer – Which is Better?
When comparing Bona vs Swiffer products, it's important to note that they serve completely different purposes. Most likely, you'll find yourself switching back and forth between the two based on what type of flooring you typically clean. Therefore, it shouldn't be seen as Bona vs Swiffer, but rather Bona & Swiffer.
If you are cleaning floors often, get a bona floor map. If you are looking for something lightweight and flexible to clean spills, get a Swiffer.
Just remember that whatever you decide, both brands provide superior results. Bona floor mops might cost slightly more, but we believe it's well worth paying for proven effectiveness.
Regardless of the brand chosen, always follow proper sanitation procedures when washing your flooring.
Never apply chemicals directly onto the surface. Use warm water and mild dishwashing detergent. Avoid harsh abrasive pads and rough scrubbers. Always spot test new products on a hidden corner area prior to using them everywhere.