Looking for the best washing machine for cloth diapers? You're at the right place. Discover which washing machine can preserve the quality of your baby's cloth diapers even after many washes in this post.
Although cloth diapers are an effective technique to decrease trash, both at home and at dumping locations, washing is not entertaining at all. Cloth diapers are riddled with myths; however, one persisting fallacy concerns the washing of cloth diapers, and it's said to be difficult and time-consuming. Is this, however, correct? 
Don't be concerned, because anyone who has used a washing machine can clean filthy cloth diapers. So, toss the diapers in, wash them, let them dry, and you're done. Is it so difficult? 
This section will learn more about cleaning your cloth diapers with a washing machine. We'll go over the best washing machines for cloth diapers to help you get the most dependable, long-lasting, and energy-efficient washer, depending on what's best and convenient for you. Finally, after analyzing the features, benefits, and cons, you will have several selections to choose from.
See Also – Best Laundry Detergent for Babies with Eczema
Finding the Best Washing Machine for Cloth Diapers—Key Features
Most children require diapers for two to three years and use up to 12 diapers each day, which you must wash every two to three days.  Consider these essential features before purchasing the best washing machines for cloth diapers.
Unit Size & Capacity
There are washing machines with small and large capacities. Your decision may vary according to the size of your family, the frequency of washing, the amount of laundry you do, and the amount of space you have in your laundry room. 
Since you should wash cloth diapers all by yourself, an average 3.5-cubic-feet washing machine for a family of four and below will suffice. For larger families with several children, a giant washing machine with more than 4-cubic-feet will be most effective and efficient. 
Planning about the spot where you will place your washing machine will save you much time. A fully-automatic top load washing machine may be narrower than a front loader, making it more ideal for you if you only have a limited area to position your washing machine.
Water Temperature
It is essential to consider if the washing machine you are eyeing comes with temperature control settings. Since cloth diapers are heavily soiled, washing them in hot water is the best way to remove the soiling and remove the stench. 
While only washing with cold water saves money on electricity, the diapers' foul odor will eventually resurface. Lower water temperatures may lead to a higher microbial level. The greater the microbial level, the more likely the foul odor will return.
However, it is also essential to see if cold temperature settings are available. If you pre-wash cloth diapers, it is best to put them in cold water to avoid possible stains before thoroughly washing them in hot water.
Option for Cycles
Cloth diapers are designed to be washed and reused by children for a long time. Thus, it is important to consider if the washing machine you intend to buy has different options for cycles.
Pre-wash
Pre-washing is an additional cycle added at the beginning of most washing cycles. The machine will be filled with water during this stage, add the detergent in, tumble the clothes, drain, and spin before starting the standard cycle. The washing machine will then execute the normal cycle you choose when the pre-wash cycle is finished. 
Heavily soiled diapers are advised to be pre-washed to remove surface dirt and stains. The pre-wash will remove pee, grease, food, and other unpleasant substances. The clothing may be disinfected and cleaned in freshwater during the regular wash cycle.
Rinse Cycles
Rinsing entails multiple steps to complete the process. First, you must remove the soapy water before filling the machine with freshwater to rinse the garments. The rinse cycle employs spraying and spinning intervals to get the soapy water and detergent out of the washer. Finally, spinning is the final stage of agitation with plain water.
Quick-wash
The quick-wash cycle will be a helping hand whenever you are in a hurry. From the name itself, quick-wash has a shorter spin cycle and only takes around 15 minutes to an hour to complete. 
However, when it comes to this option, you should only wash lightly soiled clothes. The quick wash cycle will not be sufficient to clean severely stained garments.
Pre-soak
Before the regular washing cycle, preserving clothing diapers will help dissolve embedded stains in the garments. This option is best for heavily soiled diapers that haven't been washed immediately. 
It starts with a quick tumble before soaking the items in water and detergent for a set amount of time. When the cycle is finished, it will proceed to the standard washing cycle.
Cycle Speed
The Cycle Speed is the number of times the washing machine drum spins in a minute, measured in revolutions per minute (rpm). You can use it to remove stains from cloth diapers while minimizing the quantity of water needed to wash them. The higher the cycle speed (rpm), the more water will be removed. 
However, choosing a washing machine with a breakneck cycle speed is not recommended. Extremely high spin speed will allow the motor to quickly run out of power, making it more likely to fail than other washers.
Detergent Type
All types of detergent can form a film over the fibers of a cloth diaper over time, which can cause a distinct odor when the diaper is soiled and can also irritate sensitive baby skin. Cloth diapers tend to be heavily soiled, so you will need a detergent with a good formula that can handle the job. Whether you choose powdered or liquid detergent for cloth diapers depends on personal preference. 
Powdered detergents may be packaged more environmentally friendly than liquid detergents, usually less expensive. On the other hand, liquid detergents function the same way as powdered detergents. Still, they make it easier to apply too much detergent, leading to additional build-up.

The Best Washing Machine for Cloth Diapers
LG – 5.0 Cu. Ft. Smart Top-Load Washer – Best Laundry Machine For Cloth Diapers
Need to Know Information
Highly rated by customers for: Ease of use, Quiet, Cleaning quality
6Motion™ technology
Direct-drive motor 10-year limited warranty
What we Love About it: Perfect for cloth diapers, and any types of garment It's powerful yet silent, thorough, intelligent, and well-made.
The LG – 5.0 Cu. Ft. High-Efficiency Smart Top-Load Washer with TurboWash3D Technology is one of the best cloth diaper washing machines because of its TurboWash3D technology system that combines a strong water jet spray with fluid waves that spiral sideways for a deep, thoroughly clean, and quick rinsing perfect for cloth diapers. The LG TurboWash3D top-load washer features ColdWash technology and different cycles (depending on the type of garment) to immerse your cloth diapers in cold water and remove dirt and odor. 
This washer also measures 44.5″H x 27″W x 28.37″D and easily fits most laundry spaces. With that much space, the LG – 5.0 Cu. Ft. High-Efficiency Smart Top-Load Washer adjusts the water level and wash duration for each load automatically using its SenseClean system. 
The LG top-load smart washer also comes with a self-cleaning setting. Furthermore, it is also equipped with intelligent technologies that allow you to access real-time the LG Wi-Fi washer from your smartphone using the SmartThinQ App and Google Assistant with simple voice commands— even if you're on the go.
Samsung – 5.0 Cu. Ft. Top Load Washer – Best High-efficiency Washing Machine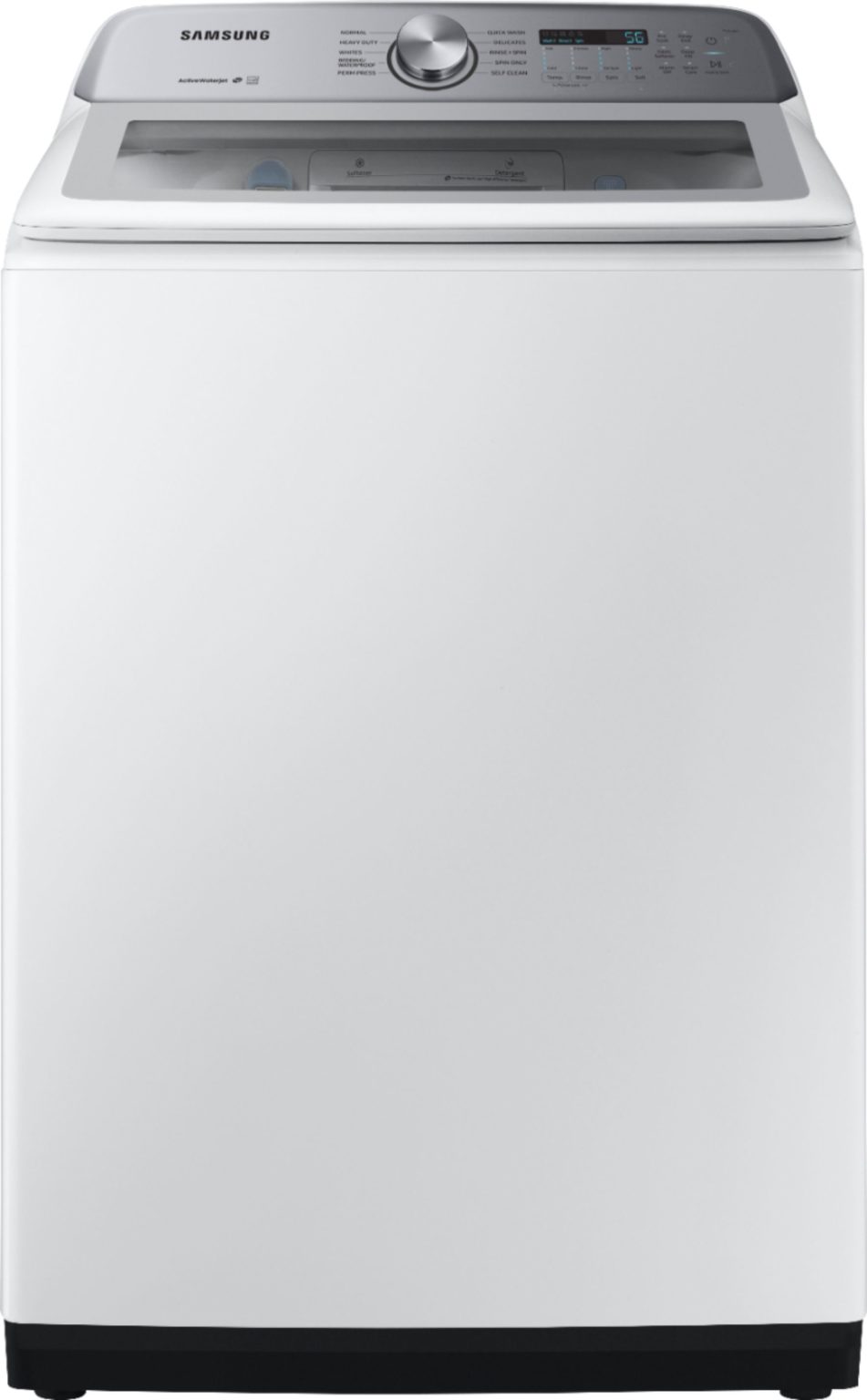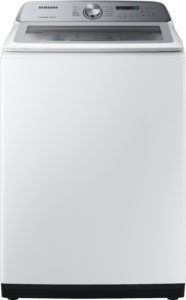 Need to Know Information
EZ Access tub design
Smart Care for easy troubleshooting from the convenience of your smartphone
1-year limited warranty
What we Love About it: Highly efficient in terms of cleaning and also saving energy. It's high-volume, remarkably efficient, and time and water-saving.
The Samsung's – 5.0 Cu. Top Load Washer is now one of the most efficient washing machines. Because of the high capacity (5.0 cubic feet drum), you can wash more items in a single load and spend more time doing what you enjoy. Also, the revised drum design on the Samsung Top Load washer removes more water more rapidly during the rinsing cycle and prevents clothes from snagging during washing.
The Samsung washer includes SmartCare and SelfClean technology, which links with your washer to do an immediate diagnosis, provide quick repairs, and self-cleaning systems. Samsung's 5.0 Cu. Top Load Washer now has audio assistance, which plays a different sound for each option and braille next to critical control panel buttons, aiding the visually and hearing impaired. 
With Normal, Heavy Duty, Permanent Press, Bedding/Waterproof, Delicates/Hand Wash, Quick Wash, Rinse + Spin, Spin Only, Whites, and Self Clean cycles, doing laundry has never been more accessible. Moreover, doing your laundry without disturbing anyone at any time and in any place is provided by the built-in VRT Plus™ Technology.
The Samsung top-load smart washer has a self-cleaning setting for maximum efficiency. It is not only efficient in terms of performance, but it is also cost-effective since it is ENERGY STAR certified. It comes with a one-year warranty, so you won't be disappointed if you try this Samsung top-load washing machine.
Samsung – 4.5 cu. ft. Front Load Washer – Best Front Loading Washing Machine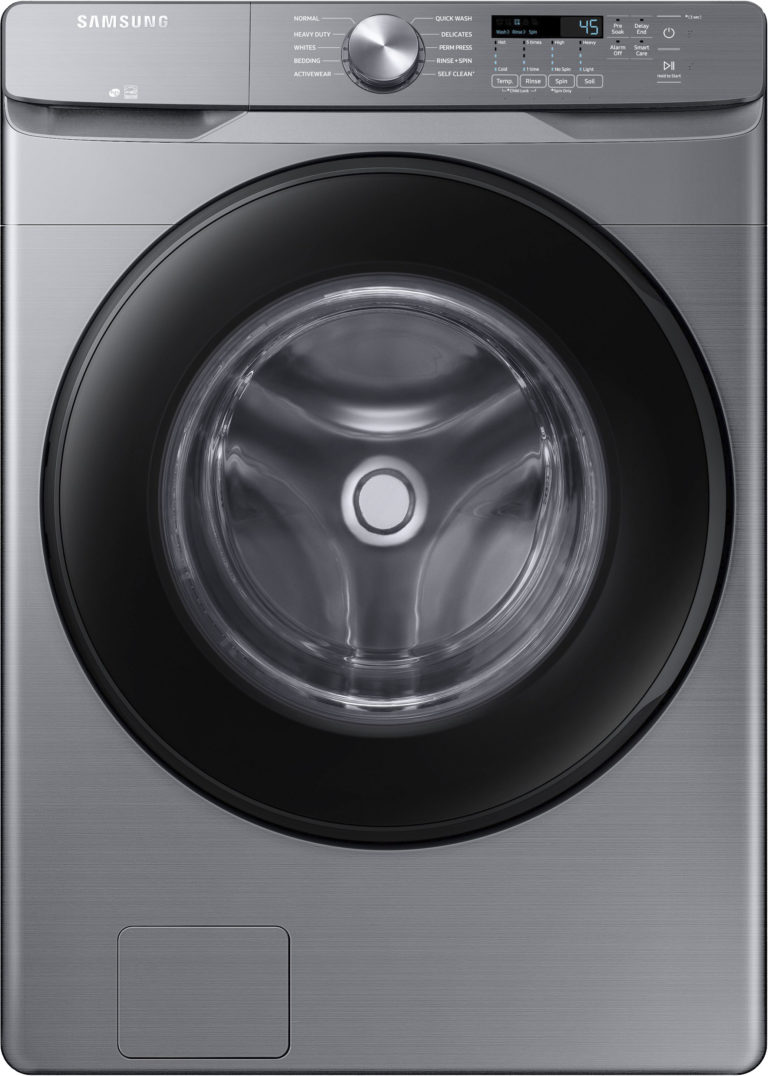 Need to Know Information
Self Clean+
1200 revolutions per minute
CEE Tier 2
What we Love About it: Eco-friendly, accessible, and also ideal for all fabric types. It's quiet, efficient, self-cleaning, and washes thoroughly.
The Samsung 4.5 cu ft. Front Load Washer is unquestionably one of the most incredible front load washers available today. It not only has Vibration Reduction and Self Clean+ technology, but it also has high ENERGY STAR ® and UL energy-efficiency ratings. This Samsung Front Load Washer is more environmentally friendly than conventional top-loading washers since it uses less water than top load washers.
Traditional top-loading washers are not the same as front-loading washers. The critical distinction between the two is that front-loaders consume less energy than top-loaders. Compared to regular machines, they consume less water and energy.
Despite this, with the help of 10 wash/rinse cycles, primarily Heavy Duty and Whites wash cycles, this Samsung Front Load Washer offers you energy-efficient service and ensures that your cloth diapers are free of bacteria and stubborn stains.
Samsung – 4.5 Cu. Ft. Stackable Front Load Washer – Best Vibration Reduction Washing Machine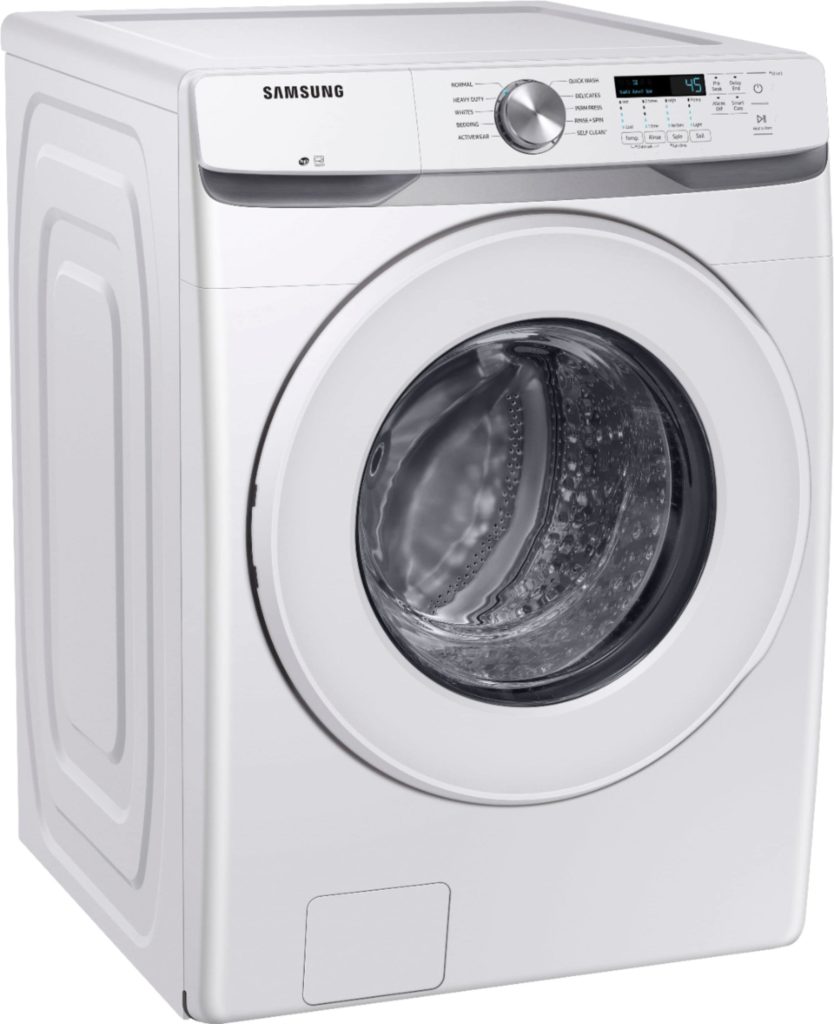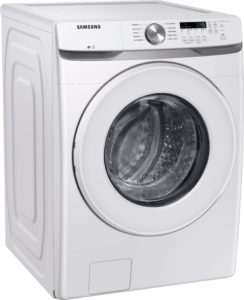 Need to Know Information
Highly rated by customers for its quietness, ease of use, & price
Stackable washing machine
UL Certified
What we Love About it: Exquisite for peaceful and quiet homes. It's low-cost, efficient, well-designed, and exemplary quiet.
Take a peek at our best buys if you seek the quietest washing machine. The Samsung – 4.5 Cu. Ft. High-Efficiency Stackable Front Load Washer is eventually one of the best vibration reduction washing machines. The best thing about this washing machine is equipped with Vibration Reduction Technology+.
However, when shopping for a new washer, we frequently forget the feature of quietness. You can obtain a superb range of intelligent features, a massive capacity for washing every one of the family's dirty clothes without hassle, a high energy rating, and more – but if you get that machine home and discover it's excessively noisy, all of that efficiency is easily disregarded.
As this washing machine is also highly efficient, just like the previous models, it is also silent with the help of Vibration Reduction Technology+. For customer satisfaction, when you buy this product, it comes with a 1-year manufacturer warranty and a year for labor. With this high-class efficiency, performance, power, and quietness, you will never go wrong at buying the Samsung – 5.0 Cu. Ft. High-Efficiency Top Load Washer.
Samsung – 4.4 cu. ft. Top Load Washer – Best Washing Machine With Agitator
Need to Know Information
Highly rated by customers for: Cycle options, Cleaning quality, Ease of use
Diamond Drum Interior to prevent fabrics from snagging and being damaged
Self Cleaning
What we Love About it: Agitator perfect for reducing noise, vibration, and tangling while delivering powerful cleaning. It's powerful yet silent, highly efficient, intelligent, and well-designed.
This new Samsung Top Load Washer from RC Willey has an Active WaterJet, a built-in water jet that helps you pretreat stubborn stains. Samsung's ActiveWaveTM Agitator is intended to supply intense washing while reducing noise, vibration, and tangling.
It also features more cycles to accommodate practically all of your busy family's washing needs: Normal, Bedding/Waterproof, Heavy Duty, Perm Press, Delicates, Quick Wash, Self Clean, Rinse + Spin, Spin Only, Deep Wash. However, because it is not ENERGY STAR certified, this washing machine is inefficient in energy use.
Compared to the previous washing machines, the Samsung Top Load Washer lacks app connectivity. Regardless, this washer is one of the best agitator-equipped washers. This item also comes with a one-year customer satisfaction guarantee.
FAQ When Searching for the Best Washing Machines for Cloth Diapers
Hand Wash Diapers or Washing Machine?
Conveniently, you get to regulate how much detergent goes into the laundry. Still, hand washing cloth diapers is somewhat tricky since too many suds can leave you stranded for days, and too little doesn't eliminate the odor. When it comes to washing machines, too much means turning it on again and giving it another rinse, while too little means adding more to the machine. It also saves you much time compared to hand-washing your cloth diapers.
Can you put cloth diapers in the washing machine?
YES. Like any other garment, you can wash cloth diapers in the washing machine. There are, however, some precautions to be aware of.
Is It Safe To Wash Cloth Diapers In A Washing Machine?
Cloth diapers are entirely safe to wash in the washing machine. It's necessary to wash soiled diapers first before putting them in the washer. After being soiled, it's advisable to give them a short rinse.
Do cloth diapers need to go in a separate wash load?
It would be best to not mix cloth diapers with any other garments except clothes such as towels. It is a problem when there aren't enough cloth diapers to wash. Putting extra laundries, such as towels or other dirty clothes, is an excellent way to keep your diapers agitated and clean within the 2-3 day window before mold and bacteria become an issue.
Most of the time, soiled clothes are only dirty on the outside. They only have food or dirt on their bodies. Perspiration may occasionally permeate clothing's inner layers. Still, clothes are typically thin, single-layer pieces of material and the sweat isn't in large quantities.
However, cloth diapers are multi-layered, thick items designed to trap dirt (urine). It would help if you cleaned it both inside and out. That is why cloth diapers take an additional rinse at the beginning of their wash cycle to initiate the process of eliminating urine and dirt from between the layers of the diaper.
What detergent is best for cloth diapers?
Any market detergent will work, but there are three simple things to remember: Avoid using detergents with softeners, soaps/soap nuts, and ordinary detergent (if used in HE machines). 
Fabric softeners will almost certainly cause issues with your cloth diapers. After drying, the fabric softener's active deposits on the cloth leaves a slightly oily substance with a better 'sensation'. Unfortunately, the softener is not entirely removed in the second wash. 
And that is why, throughout time, the towels may appear less absorbent, as the active deposits coat the fibers, preventing them from picking up quite enough water. The residue can help attract and retain dirt and body oils that the detergent won't get rid of. The vast majority of laundry products branded "soap" lack surfactants and create a greasy film on cloth diapers, so you should always use actual detergents on your diapers.
Anything and everything that creates a residue on your diapers will become a hazard when the germs deposited on that with your baby's waste become trapped. Another way to induce build-up with detergent is to use too much of it, even if it's a good kind. When you use too much detergent, it won't be able to be rinsed away, and it will start building up on your diapers over time. If you have hard water, insufficient detergent can cause mineral build-up, and if soft water, soil build-up.
What is an Agitator?
Agitators are tall vertical spinners in the washer's midsection that are vaned or slightly curved. Washers with agitators are all about the action in the wash basket. Against popular belief, developments in agitator technology ensure that they are gentle on fabrics.
A washer with an agitator is more dependable than washers without one when cleaning clothes. While the agitator's revolving activities may create some wear and tear on your clothes, you'll find that stains come out more accessible and faster.

Best Washing Machine for Cloth Diapers Conclusion
Investing in a good washing machine that caters to dirty laundry and heavy soiling of cloth diapers is an intelligent choice for parents with little children. Given the numerous options in the market, figuring out which washer is the most suitable for you will not only greatly aid you in your chores but will also help you save up lots of money in the long run.
Laundry machines have greatly simplified the process of doing laundry. For instance, in cleaning clothing diapers, you can simply choose your preferred settings, add the detergent and load your laundry in the washing machine before turning it on. Unlike handwashing, you don't have to worry about doing additional work; just sit, relax, and wait for the washer to do its wonders.
In buying the best washing machine for cloth diapers, there are several factors to consider: the unit type and capacity, water temperature, cycle options, cycle speed, and detergent type—all of which have been discussed in this article. 
The top five best washing machines for cloth diapers that have been featured above were chosen through various customer satisfaction surveys and feedback online. So if you're looking for an excellent cost-effective washer for cloth diapers, check out the list we've compiled. You might just come across the washing machine of your dreams!